In this article I will explain the subject of vSAN Fault Domains. You can review the original source here.
Fault Domains allow systems to run in cases where multiple server failures or a cabinet is not reachable by spreading the vSAN cluster across multiple cabinets or blade chassis. One or more servers can be added to each Fault Domain.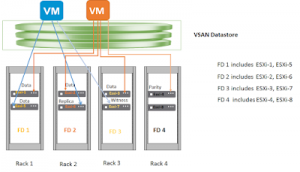 The Primary level of failures to tolerate (PFTT) policy in vSan cluster depends on the number of failure that the virtual machine can tolerate. When PFTT = 1 is defined, any single failure can be recovered in vSan Fault Domain (e.g. entire cabinet failure).
When a virtual server is provisioned after fault domains are configured, the protection objects such as vSAN, replica, and witness are stored in different fault domains. If the storage-based policy is PFTT = N, vSAN requires at least 2n + 1 number of Fault Domains. If the virtual machines in the vSAN cluster use the Fault Domain policy, the corresponding virtual machine objects are kept in different cabinets.
In the same way as the vSphere cluster with three nodes, it needs min. 3 units (2 * 1 + 1) Fault Domain in order to provide PFTT = 1.
If a cabinet is not fully accessible then a high percentage of hardware resources are lost thus it is recommended to create small Fault Domains to minimize the impact.
The following Best Practises should be followed while working with Fault domains;
min. 3 and for best results 4 and more Fault domains should be created in a vSAN cluster.
A server that does not belong to any fault domain is considered as its own single-server fault domain.
When servers in the vSAN are moved to different clusters, they continue to retain the Fault Domain properties they belong to.
Each vSAN host is not required to be assigned to a Fault Domain, and if possible, fault domains of equal sizes must be configured.
When designing a Fault Domain, it is recommended to approach from both disk and compute power perspective with peer servers.
A desired number of servers can be added to a Fault Domain in a minimum of 1.
The next spell will be Stretched Cluster, you can reach it here.