vSAN Stretched Cluster (SC) provides business continuity in multiple failure situations like Fault Domains. Data is written simultaneously to two separate locations, the first location is called Preferred and the second one is called Secondary. If one of the locations is lost, the virtual machines restarts at the second location by using VMware HA, where all fresh data exists.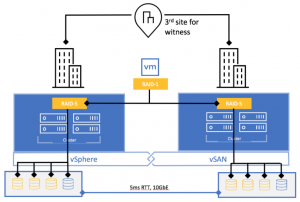 Requirements for Stretched Cluster,
The witness server stores the metadata, such as the witness components of virtual machine objects, does not involve storage processes. Decides which side will stand up with current data in case of interruption. It can be used in OVA or physical ESXi format. It should be in 3rd place where current vSAN Environment does not belong to. It should have network latency less than 200 ms.
The network connection delay between Preferred and Secondary should be less than 5 ms.
Min. 10GB/S network connection.
 A sufficient number of servers to comply with the specified policies.
Restrictions,
The Witness server cannot run the virtual machine.
The Witness server can managemore than 1 Stretched Cluster.
It cannot be placed in any vSphere cluster under vCenter.
In my previous article, I'm not going to give you further details about regarding policies for SC. Please find the my relevant article here.