VMware vSan can be called as a technology that allows locally attached disks that are installed on the server to create a clustered disk space, or as Distributed Object-Based Storage. It reduces complexity eliminating the  physical storage layer.
Since vSan is embedded in the hypervisor, what you need to do is only to activate it via vSphere and a separate installation is not required.
It can be taken as vSan ReadyNode from a variety of compatible vendors and make your own installation, Also can be taken as ready-to-use solutions like Dell VxRail. You can also check whether your existing hardware is vSan compliant from here  and licensing for version 6.7 here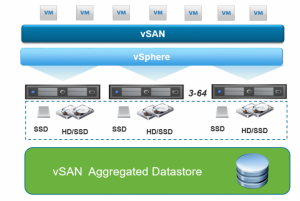 Technologies such as HA, DRS, vMotion used in VMware vSphere are compatible with vSan.
A passthrough RAID card is required for vSan, so if you have an unsupported old card, there is still still a chance to install vSan by creating RAID-0 Virtual drives per each disk.  (not recommended except for Test environment.)
It can work in both hybrid and all-flash structure. For hybrid construction, Min. 1GB/s network speed and  Min. 10gb/s for all-flash are required.
Each disk group must consist of 1 cache SSD and SSD or magnetic discs between  1-7  for capacity. A total of 5 disk groups are supported.
When used with All-flash, Nearline Deduplication and Compression are supported.
Support for cabinet redundancy can be provided with Fault Domain.
If the network access is not exceeding 5 ms latency, the loss of a location between two does not stop entire system from working with Stretched Cluster feature. The entire infrastructure will continue to operate over the second location. (Witness Node  is required)
Although vSan requires at least 3 node requirements to function, it can also work with 1 + 1  i.e. 2 node using one Witness node.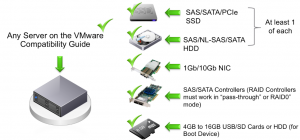 Unlike the raid types in traditional storage units, Datastore default and virtual machine-based RAID policies are used in vSan.
Simply RAID1, RAID0, Raıd5-6 (Erasure Coding) variations of these policies including Data locality and Stretched Cluster exist in vSan. I'll not keep it in detail for now, and will elaborate on my next writings.