Although the use of virtualization, which is now indispensable for information technologies, is 10 years in the x86 community, Unix/Linux users have been benefited from the older time.
So what is virtualization?
Basically, it's a technology that improves productivity by sharing the hardware resources on the server across multiple virtual servers. For now, I'm going to go over this definition and the server special.
What are virtualization components?
Physical Hardware Resources (server)

The hypervisor running on the Host operating system or integrated

Virtual server resources and the operating system

Related applications running on the virtual server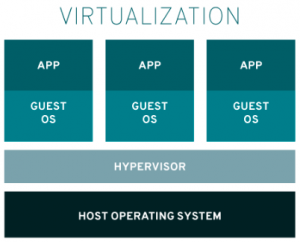 What are the heavily used virtualization software?
Of course, when it comes to virtualization, the company VMware celebrates 20 years. In the early versions, I met VMware ESX 2.5 version, which was a redhat-based distribution, in 2005, but we couldn't create a shot until it became 4.1 version:) The ESX was used before the 4.0 version, renamed as ESXi as a customized distribution after 4.0. Currently 6.7 version is used.
Microsoft Hyper-V, thanks to an attractive price advantage in the industry. Running Windows Server 2008 as a role built on the Hyper-V operating system,developed with Windows Server 2008 R2 and increased its use. Today it is used as the latest version with Windows Server 2016. Windows Server 2019 is expected to emerge in the last quarter of 2018.
Oracle VM Server for x86 is the virtualization solution that Oracle provides for free with its hardware. It can be used free of charge as long as you are able to download the product. Oracle's x86-based solutions are running Oracle VM Server, including Oracle Database Appliance, Oracle Private Cloud Appliance as well.
The Kernel-based Virtual Machine (KVM) is available as an example of Redhat virtualization and Nutanix Acropolis for Linux-based virtualization variants.